Hello everyone! I've continuously been focusing on building out the Tome.gg platform! As a form of accountability to you guys, I've recently come up with these KPIs as my targets, which I am tracking using Appsmith, a no-code platform for internal tools!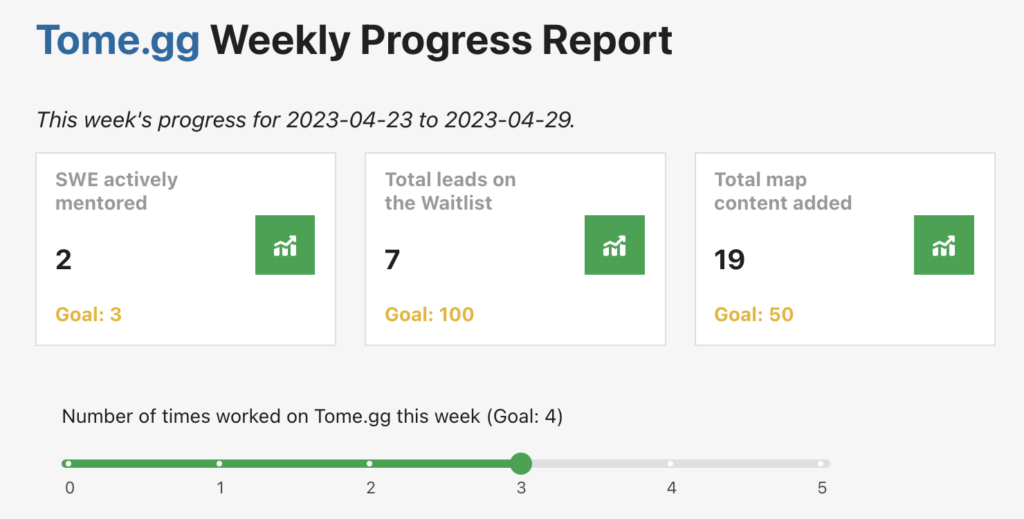 The most important KPI I am tracking right now is the total number of SWEs mentored on the Tome.gg platform. Currently, I am working with 2 software engineers who have mentorship/peer-to-peer apprenticeship with me. To learn more about different kinds of mentorship/apprenticeships, check out our protocol section on Kenshusei and Dou Kenshusei.
The next KPI is the number of people that are active/pending on the Tome.gg waitlist, which are undergoing communications/clarifications/evaluation of Tome.gg. The goal is to translate the waitlist total into the number of SWEs being mentored on Tome.gg.
The last KPI is the total number of resource entries curated on the Tome.gg map. The intention here is to curate a list of resources that will accelerate our community of software engineer's growth.
As of today, Thursday (Apr 27), I currently have worked a total of three times this week, as I had to focus on my finals for my intellectual property class. More details of my progress as a founder is available on my Daily Stand Up report which I write on regularly. The week hasn't finished yet, but I'll definitely target to work at least four times this week.
I will do my best to give a weekly progress update on the releases on the Tome.gg platform and I hope you guys stay tuned to see how I'm designing a platform that accelerates learning for mid- to senior-level software engineers, whether you're learning/building in public or choosing to have a private mentorship set up!
Last thing! If you're interested to have group-based coaching through a role-playing, and case-based style of learning, please sign up to our Roleplay Case-based Learning waitlist!